Drinks Package Scholarship
Drinks Package Scholarship 2017
Kirsty Bullen, Bar Supervisor, The Chester Hotel, Aberdeen
(now working at No. 1 Bar and Grill)
"I've been working in the hospitality industry for a few years now, which has seen me hone my skills both on the bar and be involved in hotel operations. I've been working as a Bartender at The Chester Hotel in Aberdeen for about a year, with a promotion to Supervisor back in March. I'd love to progress as much as I can in the bar management side, learning all that I can from my manager, both front of house and behind the scenes, but in the future I would love to expand my knowledge even more to different departments throughout the running of the hotel. I applied for the Drinks Package scholarship to develop my skills and help me to move forward with my career in this industry.
For my scholarship I took part in the Liquid Academy's Silver Award course for The Modern Professional Cocktail Bartender. We first learned about the development of bartending and cocktail creation, then some tips on improving your efficiency behind the bar, and onto the art of cocktail making, tasting, and creating.
It was great to meet people from different bars, but my highlight had to be winning the cocktail making competition at the end of the course! We were each given the task of creating our own twist on a classic cocktail and then presenting it to the group. I created a twist which combined a classic negroni and a sour by using aperol, botanist gin and sweet vermouth, along with blood orange juice, lemon juice, rosemary and egg white. I was so pleased when they announced that I had won and my hard work had paid off!
It was a fantastic experience, and I feel I have definitely improved my skills and confidence in this area. I have already been using the knowledge learned to create a new cocktail menu for The Chester, a fun challenge which I'm both nervous and excited about! And of course my winning cocktail will be part of the new menu at the Chester Hotel!
The smooth running of a team is paramount in this industry to providing a top quality service, so I am passing on the skills I have learned to the rest of my team, meaning we all gain from this experience. I'd definitely recommend a Drinks Package scholarship to any bartender looking to improve their knowledge."
Drinks Package Scholar 2018
Greig Thompson, Assistant Restaurant & Bars Manager, Doubletree by Hilton Glasgow Westerwood Spa & Golf Resort
"Throughout my 5 years at the Westerwood Hotel, I have developed a real interest in the drinks industry. I initially worked in the Conference and Banqueting department as a supervisor, then moved to the position of 'Bars and Stores Supervisor', where I looked after the cellar and hotel bars. This involves a great deal of responsibility, such as ordering stock for the whole hotel, writing new cocktail menus and running promotions on drinks, whilst maintaining a motivated and efficient bar team - with the aim of providing the best possible customer experience.
One area that I felt I need to improve on was my knowledge of wine, so I applied for the HIT Scotland Drinks Package scholarship, and am pleased to say that I am now a wine convert!
HIT organised for me to do the WSET level 2 award in Wines and Spirits at Tennent's Training Academy, which was excellent. The trainer was clearly very knowledgeable and passionate about wine, and I learned about all the different styles, regions and the tastes that these create. I have experienced lots of new flavours that I would probably never have tried. I now look at wine in a whole different perspective, with a great deal of respect to winemakers.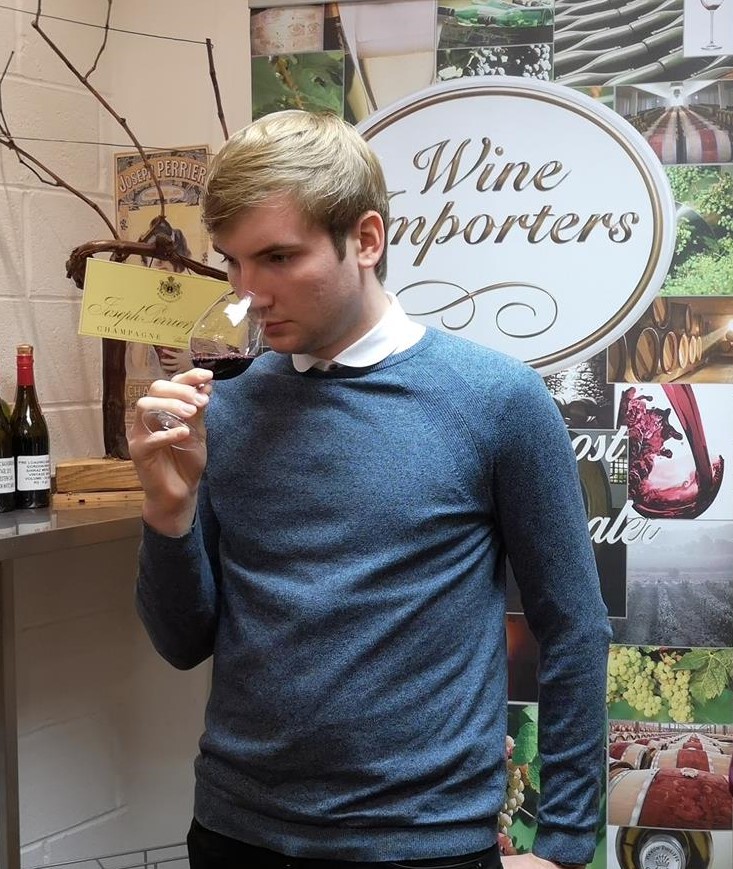 HIT also organised a unique experience for myself and another scholar, visiting Wine Importers in Livingston to spend time with their team learning about how wine is selected, imported and distributed. The highlight of the day for me was getting a tour around the warehouse, seeing the huge selection of wines - on various budgets! The wine tasting with Wine Development Manager Graeme Broom was (as expected) also a highlight, as we tasted wines I would never have experienced otherwise. We found out how the company source their wine and what's involved, pricing, and then what restaurants look for and what staff need to know to encourage customers to buy. We also learned how to design a wine list, which I am eager to become involved with in the future.
I will never forget the experience of meeting my first Master of Wine, owner Billy Bell Birse-Stewart - the wealth of knowledge he had was inspiring. Although this may not be the level I am personally aiming for, it has made me want to further my knowledge.
In terms of drinks service in the hospitality industry, I think a lot of servers lack knowledge. This knowledge is essential as it can really help a customer understand the drink and what it is they order. If a server can educate their customer as they serve, the customer can apply that knowledge they've learned to future experiences. I plan on applying my scholarship by doing exactly that, passing on my knowledge to anyone who will listen! Not only is this impressive service technique, it can really help engage my team in their own job.
Many staff in hotels shy away from learning even a basic knowledge as it is seen as too difficult or confusing. When in reality it is relatively easy once you get started! I have been able to apply my knowledge already in the hotel. I served a taster evening for our VIP conference, where I paired wines and made recommendations. This was really exciting and a great opportunity for me to upsell to some wealthy clients - helping to drive extra revenue for the business. This shows that the HIT scholarships are good for both personal and business development!
I would definitely recommend a scholarship as it is a great way to expand your own personal skills and knowledge, and it allows you to grow and aim for that next step in your career. Our hotel has now become a Doubletree by Hilton, and I have become Assistant Restaurant & Bars Manager, and I look forward to using and expanding on my wine knowledge, feel free to stop by the hotel and ask for a wine recommendation!"