College Serves up Food and Drink Hat Trick
Visitors to Borders College's recent food and drink focused events enjoyed the very best of what the Scottish Borders has to offer in the industry. Between a food fayre, chef demonstrations and charity dinner, there was something for everyone to appreciate across the 'Local Food on Local Plates' theme.
Kicking off the series of events, which took place during Scottish Food and Drink Fortnight and in support of the Year of Young People 2018, was the food fayre held at the Scottish Borders Campus. Supported by attendees from within and outwith the College, 16 local producers and suppliers exhibited their products ranging from fresh fruit and baked goods, to homemade liqueurs and locally distilled Gin for visitors to sample as well as purchase to take home. All exhibitors were keen to not only raise the profile of their business in the local area, but also to support this inaugural event and provide inspiration to the College students.
There were demonstrations from four professional chefs – Jacqueline O'Donnell (The Sisters Restaurants, Glasgow), Amanda Jordan (Firebrick Brasserie, Lauder), Iain Gourlay (Cringletie House Hotel, Peebles), and a joint demonstration by Jonny Millar (The Townhouse Hotel, Melrose) and Craig Gibb (Burts Hotel, Melrose) – all attracting a full house.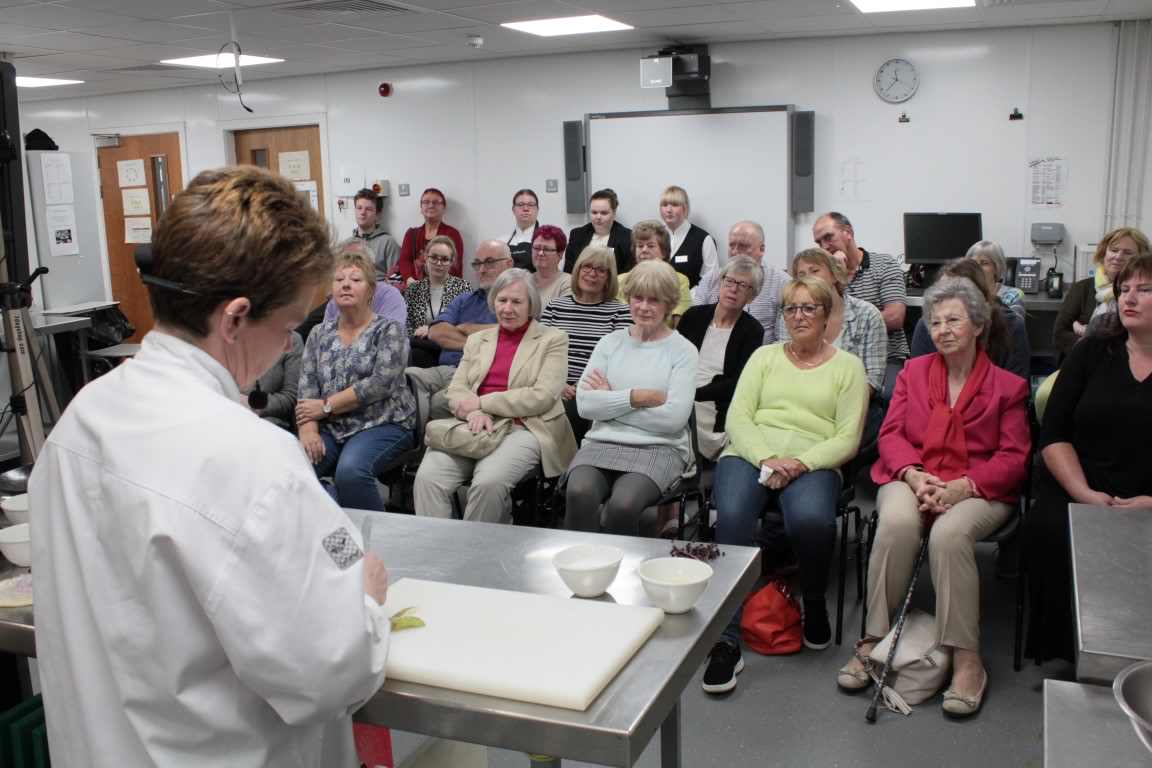 Participants deemed the demonstrations "excellent", adding that it was great encouragement for the students and they would love to attend more in the future. The catering and hospitality students themselves benefitted hugely from the demonstrations, where Jacqueline taught one group how to make puff candy and butterscotch sauce, and the students learned some new cookery techniques shown by the chefs.
The students also took the chance to showcase their own developing skills by serving light lunches and refreshments to customers from their barista bar throughout the day.
Jacqueline O'Donnell returned the following day to host a very special charity dinner in the College Restaurant. Ticketholders included members of local industry and College staff, amongst other food enthusiasts keen to experience a meal cooked by the reputable chef.  Jacqueline herself was supported by willing and able students from all three levels of Catering and Hospitality programmes, keen to add to their skillsets and experience.
The students who spent the day in the kitchen preparing the evening meal with Jacqueline gained a real buzz from their experience, with level 2 student Rebecca Sharpe saying: "It has given us a bit more experience and tips on how to prepare different ingredients, such as peeling hazelnuts."
Front of house team member and level 3 student Erin McAleer commented: "I feel like the dinner went really well, and it helped to enhance the skills I'm currently learning at College." Fellow level 3 student Selina Scott felt it was good to have the support of the local producers, some of whom may be able to offer work experience for students.
Monies raised went to the Hospitality Industry Trust Scotland (HIT Scotland).  HIT Scotland has provided significant support to a number of Borders College staff and students through craft scholarships, enabling them to enhance specific areas within their unique skillsets and to further develop their careers. It seems fitting that an event held in celebration of Scottish food and drink should support such a relevant cause, and College Principal Angela Cox highlighted that HIT Scotland's mission chimes with that of Borders College in helping people to achieve their potential.
David Cochrane, Chief Executive of HIT Scotland, who attended the dinner on behalf of the receiving charity enthused: "The quality and passion behind the food tonight really put Scotland on the map and of that we're really proud." He also talked of the challenges of recruiting, and the essential practice of attracting people to the industry by showcasing the opportunities that are available and how up to date skills need to be developed, which is where scholarships really come to the fore."
Read the full story at Borders College website